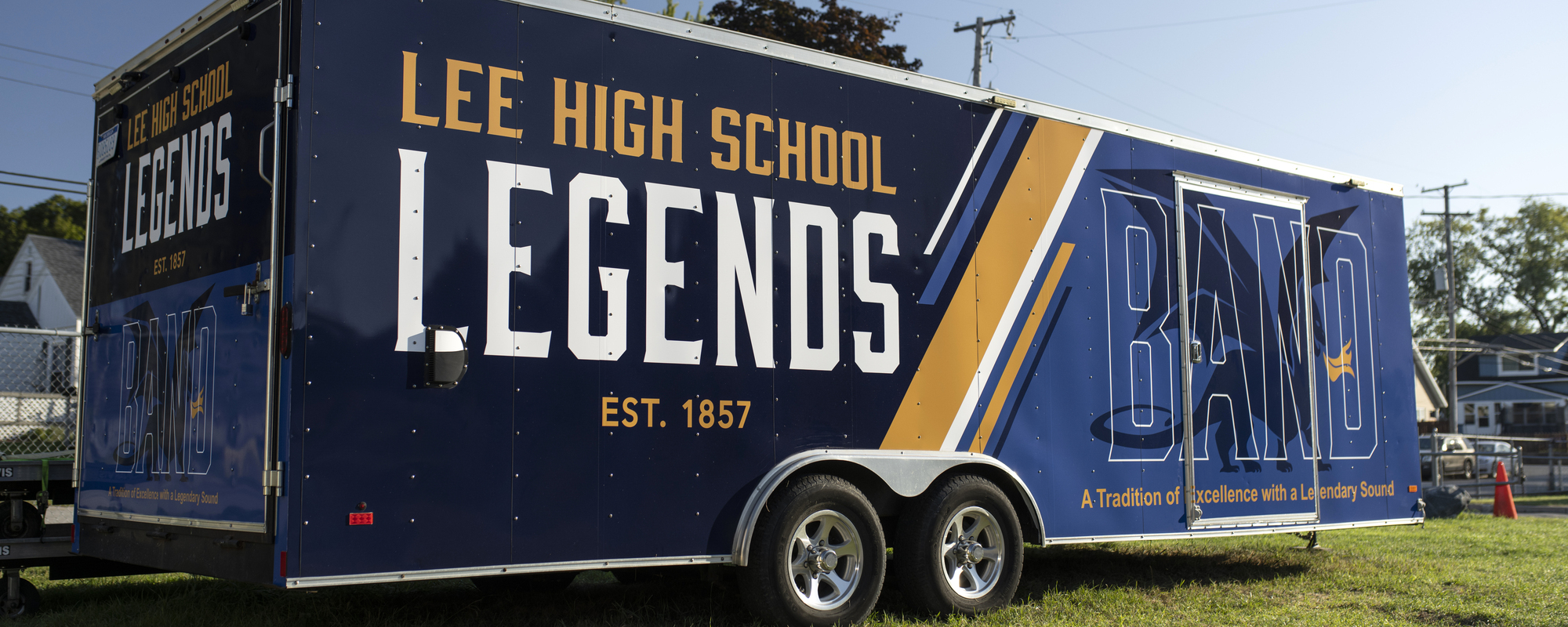 Welcome to

Godfrey Lee Public Schools

Home of the Legends
Godfrey-Lee Public Schools is a small close-knit community school district with experienced and dedicated staff that offers small class sizes to a culturally diverse student population. This signifies the commitment to academic excellence shared by the staff and community. The community provides strong support for our schools, as exhibited through partnerships with a network of organizations, local businesses, and higher education institutions.
Vision
Be You; Be Connected; Be Brilliant!
Be You: Godfrey-Lee believes in the unique identities of the staff, students, and families of our school community. We strive to support all in gaining the confidence to contribute their unique skills and talents to our community.
Be Connected: Through nurturing kindness and belonging, we work together to construct personalized learning and supports that extend beyond our walls and into the world around us.
Be Brilliant: We redefine success and provide diverse opportunities for expression and passion pursuit that engages all and encourages an enduring love of learning.
Mission
To help our students, families, and community thrive and grow academically, socially, and emotionally by providing a safe and nurturing learning environment that inspires all learners to uncover and realize their dreams through personalized learning experiences and meaningful partnerships with all those within the Godfrey-Lee Public Schools community.
Core Values
Relationships:
Establishing strong and healthy relationships which value and affirm the individual stories and perspectives of students, staff, and families serves as the foundation for a safe and nurturing culture of learning in which all people belong.
Community:
Providing opportunities and partnerships for relevant, real-world experiences, higher levels of family engagement, and service opportunities within the community.
Equity:
Achieving educational equity through the personalization of learning and honoring the uniqueness of each learner's culture, background, and experience.
Academic Excellence:
Striving for excellence through a strong curriculum, relevant learning experiences, and high expectations.
Location:

Godfrey-Lee Early Childhood Center (961 Joosten St SW, Wyoming, MI 49509, United States)

Calendar:

GLPS District Calendar

This event has been changed. Changed: Godfrey Lee ECC Community Visit - When Tue Jun 29, 2021 2pm – 4pm Eastern Time - Detroit Where Godfrey-Lee Early Childhood Center, 961 Joosten St SW, Wyoming, MI 49509, USA (map<

https://www.google.com/maps/search/Affinity+Mentoring+at+Godfrey-Lee+Early+Childhood+Center,+961+Joosten+St+SW,+Wyoming,+MI+49509,+USA?hl=en

>) Calendar

bookmobile@kdl.org

Who •

kdlbookmobile@gmail.com

- organizer • KDL Bookmobile • Sara Proano •

outreach@kdl.org

more detail<

https://calendar.google.com/calendar/event?action=VIEW&eid=NWU1NHJkOHQzN3N0MnY5azNsMWRpanE0b29fMjAyMTA2MjlUMTgwMDAwWiBib29rbW9iaWxlQGtkbC5vcmc&tok=MjMja2RsYm9va21vYmlsZUBnbWFpbC5jb204MjkxNTc2ZTM2NzVlNGRkMzllMjQ5NjVjZDQ3NDhhOWFiMzVkYTNh&ctz=America%2FDetroit&hl=en&es=0

> Bookmobile Operators: 1. Kevin Kammeraad 2. Joyanne Huston-Swanson 3. Hannah Moulds On Call: Sara Proano Building Contacts: Harry Coffill 616-634-9043 ***Provide Library card registration, wifi access, holds pick up, STEAM make n take activities*** Going (

bookmobile@kdl.org

)? Yes<

https://calendar.google.com/calendar/event?action=RESPOND&eid=NWU1NHJkOHQzN3N0MnY5azNsMWRpanE0b29fMjAyMTA2MjlUMTgwMDAwWiBib29rbW9iaWxlQGtkbC5vcmc&rst=1&tok=MjMja2RsYm9va21vYmlsZUBnbWFpbC5jb204MjkxNTc2ZTM2NzVlNGRkMzllMjQ5NjVjZDQ3NDhhOWFiMzVkYTNh&ctz=America%2FDetroit&hl=en&es=0

> - Maybe<

https://calendar.google.com/calendar/event?action=RESPOND&eid=NWU1NHJkOHQzN3N0MnY5azNsMWRpanE0b29fMjAyMTA2MjlUMTgwMDAwWiBib29rbW9iaWxlQGtkbC5vcmc&rst=3&tok=MjMja2RsYm9va21vYmlsZUBnbWFpbC5jb204MjkxNTc2ZTM2NzVlNGRkMzllMjQ5NjVjZDQ3NDhhOWFiMzVkYTNh&ctz=America%2FDetroit&hl=en&es=0

> - No<

https://calendar.google.com/calendar/event?action=RESPOND&eid=NWU1NHJkOHQzN3N0MnY5azNsMWRpanE0b29fMjAyMTA2MjlUMTgwMDAwWiBib29rbW9iaWxlQGtkbC5vcmc&rst=2&tok=MjMja2RsYm9va21vYmlsZUBnbWFpbC5jb204MjkxNTc2ZTM2NzVlNGRkMzllMjQ5NjVjZDQ3NDhhOWFiMzVkYTNh&ctz=America%2FDetroit&hl=en&es=0

> more options »<

https://calendar.google.com/calendar/event?action=VIEW&eid=NWU1NHJkOHQzN3N0MnY5azNsMWRpanE0b29fMjAyMTA2MjlUMTgwMDAwWiBib29rbW9iaWxlQGtkbC5vcmc&tok=MjMja2RsYm9va21vYmlsZUBnbWFpbC5jb204MjkxNTc2ZTM2NzVlNGRkMzllMjQ5NjVjZDQ3NDhhOWFiMzVkYTNh&ctz=America%2FDetroit&hl=en&es=0

> Invitation from Google Calendar<

https://calendar.google.com/calendar/

> You are receiving this courtesy email at the account

bookmobile@kdl.org

because you are an attendee of this event. To stop receiving future updates for this event, decline this event. Alternatively you can sign up for a Google account at

https://calendar.google.com/calendar/

and control your notification settings for your entire calendar. Forwarding this invitation could allow any recipient to send a response to the organizer and be added to the guest list, or invite others regardless of their own invitation status, or to modify your RSVP. Learn More<

https://support.google.com/calendar/answer/37135#forwarding

>. ________________________________________________________________________________ Microsoft Teams meeting Join on your computer, mobile app or room device Click here to join the meeting<

https://teams.microsoft.com/l/meetup-join/19%3ameeting_YmYyZWE3YmUtODM3MC00NTA0LWJiNmYtNDcxZjM4NTMyY2Y5%40thread.v2/0?context=%7b%22Tid%22%3a%22bc7e3083-81d7-430c-8a91-cc32ff528ec3%22%2c%22Oid%22%3a%22617a85a9-e417-4072-a123-6c07b288e9a8%22%7d

> Meeting ID: 256 649 362 857 Passcode: sNAi6h Download Teams<

https://www.microsoft.com/en-us/microsoft-teams/download-app

> | Join on the web<

https://www.microsoft.com/microsoft-teams/join-a-meeting

> Learn More<

https://aka.ms/JoinTe

Calendar:

GLPS District Calendar

Calendar:

GLPS District Calendar

Location:

Godfrey Lee High School

Calendar:

GLPS District Calendar

This event has been changed. Changed: Godfrey Lee ECC Community Visit - 6 When Tue Jun 29, 2021 2pm – 4pm Eastern Time - Detroit Where Godfrey-Lee MS/HS Campus (map<

https://www.google.com/maps/search/Affinity+Mentoring+at+Godfrey-Lee+Early+Childhood+Center,+961+Joosten+St+SW,+Wyoming,+MI+49509,+USA?hl=en

>) Calendar

bookmobile@kdl.org

Who •

kdlbookmobile@gmail.com

- organizer • KDL Bookmobile • Sara Proano •

outreach@kdl.org

more detail<

https://calendar.google.com/calendar/event?action=VIEW&eid=NWU1NHJkOHQzN3N0MnY5azNsMWRpanE0b29fMjAyMTA2MjlUMTgwMDAwWiBib29rbW9iaWxlQGtkbC5vcmc&tok=MjMja2RsYm9va21vYmlsZUBnbWFpbC5jb204MjkxNTc2ZTM2NzVlNGRkMzllMjQ5NjVjZDQ3NDhhOWFiMzVkYTNh&ctz=America%2FDetroit&hl=en&es=0

> Bookmobile Operators: 1. Kevin Kammeraad 2. Joyanne Huston-Swanson 3. Hannah Moulds On Call: Sara Proano Building Contacts: Harry Coffill 616-634-9043 ***Provide Library card registration, wifi access, holds pick up, STEAM make n take activities*** Going (

bookmobile@kdl.org

)? Yes<

https://calendar.google.com/calendar/event?action=RESPOND&eid=NWU1NHJkOHQzN3N0MnY5azNsMWRpanE0b29fMjAyMTA2MjlUMTgwMDAwWiBib29rbW9iaWxlQGtkbC5vcmc&rst=1&tok=MjMja2RsYm9va21vYmlsZUBnbWFpbC5jb204MjkxNTc2ZTM2NzVlNGRkMzllMjQ5NjVjZDQ3NDhhOWFiMzVkYTNh&ctz=America%2FDetroit&hl=en&es=0

> - Maybe<

https://calendar.google.com/calendar/event?action=RESPOND&eid=NWU1NHJkOHQzN3N0MnY5azNsMWRpanE0b29fMjAyMTA2MjlUMTgwMDAwWiBib29rbW9iaWxlQGtkbC5vcmc&rst=3&tok=MjMja2RsYm9va21vYmlsZUBnbWFpbC5jb204MjkxNTc2ZTM2NzVlNGRkMzllMjQ5NjVjZDQ3NDhhOWFiMzVkYTNh&ctz=America%2FDetroit&hl=en&es=0

> - No<

https://calendar.google.com/calendar/event?action=RESPOND&eid=NWU1NHJkOHQzN3N0MnY5azNsMWRpanE0b29fMjAyMTA2MjlUMTgwMDAwWiBib29rbW9iaWxlQGtkbC5vcmc&rst=2&tok=MjMja2RsYm9va21vYmlsZUBnbWFpbC5jb204MjkxNTc2ZTM2NzVlNGRkMzllMjQ5NjVjZDQ3NDhhOWFiMzVkYTNh&ctz=America%2FDetroit&hl=en&es=0

> more options »<

https://calendar.google.com/calendar/event?action=VIEW&eid=NWU1NHJkOHQzN3N0MnY5azNsMWRpanE0b29fMjAyMTA2MjlUMTgwMDAwWiBib29rbW9iaWxlQGtkbC5vcmc&tok=MjMja2RsYm9va21vYmlsZUBnbWFpbC5jb204MjkxNTc2ZTM2NzVlNGRkMzllMjQ5NjVjZDQ3NDhhOWFiMzVkYTNh&ctz=America%2FDetroit&hl=en&es=0

> Invitation from Google Calendar<

https://calendar.google.com/calendar/

> You are receiving this courtesy email at the account

bookmobile@kdl.org

because you are an attendee of this event. To stop receiving future updates for this event, decline this event. Alternatively you can sign up for a Google account at

https://calendar.google.com/calendar/

and control your notification settings for your entire calendar. Forwarding this invitation could allow any recipient to send a response to the organizer and be added to the guest list, or invite others regardless of their own invitation status, or to modify your RSVP. Learn More<

https://support.google.com/calendar/answer/37135#forwarding

>. ________________________________________________________________________________ Microsoft Teams meeting Join on your computer, mobile app or room device Click here to join the meeting<

https://teams.microsoft.com/l/meetup-join/19%3ameeting_YmYyZWE3YmUtODM3MC00NTA0LWJiNmYtNDcxZjM4NTMyY2Y5%40thread.v2/0?context=%7b%22Tid%22%3a%22bc7e3083-81d7-430c-8a91-cc32ff528ec3%22%2c%22Oid%22%3a%22617a85a9-e417-4072-a123-6c07b288e9a8%22%7d

> Meeting ID: 256 649 362 857 Passcode: sNAi6h Download Teams<

https://www.microsoft.com/en-us/microsoft-teams/download-app

> | Join on the web<

https://www.microsoft.com/microsoft-teams/join-a-meeting

> Learn More<

https://aka.ms/JoinTeamsMeeting

> | Meeting options<<a href="ht
Calendar

Previous

September

2023

Next

S
M
T
W
T
F
S
1
2
3
4
5

Sep 5

Calendar:

GLPS District Calendar

4:00 PM to 5:30 PM

Feeding America Food Truck/Camion de Comida

Location:

Godfrey Lee Early Childhood Center

Calendar:

GLPS District Calendar

6
7
8
9
10
11

Sep 11

7:00 PM to 8:30 PM

Calendar:

GLPS District Calendar

12
13
14
15
16
17
18
19

Sep 19

2:00 PM to 4:00 PM

1st 2023/2024 GFL MS/HS BKM Visit

Location:

Godfrey Lee Middle School/High School

Calendar:

GLPS District Calendar

This event has been changed. Changed: Godfrey Lee ECC Community Visit - When Tue Jun 29, 2021 2pm – 4pm Eastern Time - Detroit Where Godfrey-Lee Middle School/High School Campus (map<

https://www.google.com/maps/search/Affinity+Mentoring+at+Godfrey-Lee+Early+Childhood+Center,+961+Joosten+St+SW,+Wyoming,+MI+49509,+USA?hl=en

>) Calendar

bookmobile@kdl.org

Who •

kdlbookmobile@gmail.com

- organizer • KDL Bookmobile • Sara Proano •

outreach@kdl.org

more detail<

https://calendar.google.com/calendar/event?action=VIEW&eid=NWU1NHJkOHQzN3N0MnY5azNsMWRpanE0b29fMjAyMTA2MjlUMTgwMDAwWiBib29rbW9iaWxlQGtkbC5vcmc&tok=MjMja2RsYm9va21vYmlsZUBnbWFpbC5jb204MjkxNTc2ZTM2NzVlNGRkMzllMjQ5NjVjZDQ3NDhhOWFiMzVkYTNh&ctz=America%2FDetroit&hl=en&es=0

> Bookmobile Operators: 1. Kevin Kammeraad 2. Joyanne Huston-Swanson 3. Hannah Moulds On Call: Sara Proano Building Contacts: Harry Coffill 616-634-9043 ***Provide Library card registration, wifi access, holds pick up*** Going (

bookmobile@kdl.org

)? Yes<

https://calendar.google.com/calendar/event?action=RESPOND&eid=NWU1NHJkOHQzN3N0MnY5azNsMWRpanE0b29fMjAyMTA2MjlUMTgwMDAwWiBib29rbW9iaWxlQGtkbC5vcmc&rst=1&tok=MjMja2RsYm9va21vYmlsZUBnbWFpbC5jb204MjkxNTc2ZTM2NzVlNGRkMzllMjQ5NjVjZDQ3NDhhOWFiMzVkYTNh&ctz=America%2FDetroit&hl=en&es=0

> - Maybe<

https://calendar.google.com/calendar/event?action=RESPOND&eid=NWU1NHJkOHQzN3N0MnY5azNsMWRpanE0b29fMjAyMTA2MjlUMTgwMDAwWiBib29rbW9iaWxlQGtkbC5vcmc&rst=3&tok=MjMja2RsYm9va21vYmlsZUBnbWFpbC5jb204MjkxNTc2ZTM2NzVlNGRkMzllMjQ5NjVjZDQ3NDhhOWFiMzVkYTNh&ctz=America%2FDetroit&hl=en&es=0

> - No<

https://calendar.google.com/calendar/event?action=RESPOND&eid=NWU1NHJkOHQzN3N0MnY5azNsMWRpanE0b29fMjAyMTA2MjlUMTgwMDAwWiBib29rbW9iaWxlQGtkbC5vcmc&rst=2&tok=MjMja2RsYm9va21vYmlsZUBnbWFpbC5jb204MjkxNTc2ZTM2NzVlNGRkMzllMjQ5NjVjZDQ3NDhhOWFiMzVkYTNh&ctz=America%2FDetroit&hl=en&es=0

> more options »<

https://calendar.google.com/calendar/event?action=VIEW&eid=NWU1NHJkOHQzN3N0MnY5azNsMWRpanE0b29fMjAyMTA2MjlUMTgwMDAwWiBib29rbW9iaWxlQGtkbC5vcmc&tok=MjMja2RsYm9va21vYmlsZUBnbWFpbC5jb204MjkxNTc2ZTM2NzVlNGRkMzllMjQ5NjVjZDQ3NDhhOWFiMzVkYTNh&ctz=America%2FDetroit&hl=en&es=0

> Invitation from Google Calendar<

https://calendar.google.com/calendar/

> You are receiving this courtesy email at the account

bookmobile@kdl.org

because you are an attendee of this event. To stop receiving future updates for this event, decline this event. Alternatively you can sign up for a Google account at

https://calendar.google.com/calendar/

and control your notification settings for your entire calendar. Forwarding this invitation could allow any recipient to send a response to the organizer and be added to the guest list, or invite others regardless of their own invitation status, or to modify your RSVP. Learn More<

https://support.google.com/calendar/answer/37135#forwarding

>. ________________________________________________________________________________ Microsoft Teams meeting Join on your computer, mobile app or room device Click here to join the meeting<

https://teams.microsoft.com/l/meetup-join/19%3ameeting_YmYyZWE3YmUtODM3MC00NTA0LWJiNmYtNDcxZjM4NTMyY2Y5%40thread.v2/0?context=%7b%22Tid%22%3a%22bc7e3083-81d7-430c-8a91-cc32ff528ec3%22%2c%22Oid%22%3a%22617a85a9-e417-4072-a123-6c07b288e9a8%22%7d

> Meeting ID: 256 649 362 857 Passcode: sNAi6h Download Teams<

https://www.microsoft.com/en-us/microsoft-teams/download-app

> | Join on the web<

https://www.microsoft.com/microsoft-teams/join-a-meeting

> Learn More<

https://aka.ms/JoinTeamsMeeting

> | Meeting options<<a href="<a hr

20
21
22
23
24
25
26

Sep 26

2:00 PM to 4:00 PM

Location:

Godfrey-Lee Early Childhood Center (961 Joosten St SW, Wyoming, MI 49509, United States)

Calendar:

GLPS District Calendar

This event has been changed. Changed: Godfrey Lee ECC Community Visit - When Tue Jun 29, 2021 2pm – 4pm Eastern Time - Detroit Where Godfrey-Lee Early Childhood Center, 961 Joosten St SW, Wyoming, MI 49509, USA (map<

https://www.google.com/maps/search/Affinity+Mentoring+at+Godfrey-Lee+Early+Childhood+Center,+961+Joosten+St+SW,+Wyoming,+MI+49509,+USA?hl=en

>) Calendar

bookmobile@kdl.org

Who •

kdlbookmobile@gmail.com

- organizer • KDL Bookmobile • Sara Proano •

outreach@kdl.org

more detail<

https://calendar.google.com/calendar/event?action=VIEW&eid=NWU1NHJkOHQzN3N0MnY5azNsMWRpanE0b29fMjAyMTA2MjlUMTgwMDAwWiBib29rbW9iaWxlQGtkbC5vcmc&tok=MjMja2RsYm9va21vYmlsZUBnbWFpbC5jb204MjkxNTc2ZTM2NzVlNGRkMzllMjQ5NjVjZDQ3NDhhOWFiMzVkYTNh&ctz=America%2FDetroit&hl=en&es=0

> Bookmobile Operators: 1. Kevin Kammeraad 2. Joyanne Huston-Swanson 3. Hannah Moulds On Call: Sara Proano Building Contacts: Harry Coffill 616-634-9043 ***Provide Library card registration, wifi access, holds pick up, STEAM make n take activities*** Going (

bookmobile@kdl.org

)? Yes<

https://calendar.google.com/calendar/event?action=RESPOND&eid=NWU1NHJkOHQzN3N0MnY5azNsMWRpanE0b29fMjAyMTA2MjlUMTgwMDAwWiBib29rbW9iaWxlQGtkbC5vcmc&rst=1&tok=MjMja2RsYm9va21vYmlsZUBnbWFpbC5jb204MjkxNTc2ZTM2NzVlNGRkMzllMjQ5NjVjZDQ3NDhhOWFiMzVkYTNh&ctz=America%2FDetroit&hl=en&es=0

> - Maybe<

https://calendar.google.com/calendar/event?action=RESPOND&eid=NWU1NHJkOHQzN3N0MnY5azNsMWRpanE0b29fMjAyMTA2MjlUMTgwMDAwWiBib29rbW9iaWxlQGtkbC5vcmc&rst=3&tok=MjMja2RsYm9va21vYmlsZUBnbWFpbC5jb204MjkxNTc2ZTM2NzVlNGRkMzllMjQ5NjVjZDQ3NDhhOWFiMzVkYTNh&ctz=America%2FDetroit&hl=en&es=0

> - No<

https://calendar.google.com/calendar/event?action=RESPOND&eid=NWU1NHJkOHQzN3N0MnY5azNsMWRpanE0b29fMjAyMTA2MjlUMTgwMDAwWiBib29rbW9iaWxlQGtkbC5vcmc&rst=2&tok=MjMja2RsYm9va21vYmlsZUBnbWFpbC5jb204MjkxNTc2ZTM2NzVlNGRkMzllMjQ5NjVjZDQ3NDhhOWFiMzVkYTNh&ctz=America%2FDetroit&hl=en&es=0

> more options »<

https://calendar.google.com/calendar/event?action=VIEW&eid=NWU1NHJkOHQzN3N0MnY5azNsMWRpanE0b29fMjAyMTA2MjlUMTgwMDAwWiBib29rbW9iaWxlQGtkbC5vcmc&tok=MjMja2RsYm9va21vYmlsZUBnbWFpbC5jb204MjkxNTc2ZTM2NzVlNGRkMzllMjQ5NjVjZDQ3NDhhOWFiMzVkYTNh&ctz=America%2FDetroit&hl=en&es=0

> Invitation from Google Calendar<

https://calendar.google.com/calendar/

> You are receiving this courtesy email at the account

bookmobile@kdl.org

because you are an attendee of this event. To stop receiving future updates for this event, decline this event. Alternatively you can sign up for a Google account at

https://calendar.google.com/calendar/

and control your notification settings for your entire calendar. Forwarding this invitation could allow any recipient to send a response to the organizer and be added to the guest list, or invite others regardless of their own invitation status, or to modify your RSVP. Learn More<

https://support.google.com/calendar/answer/37135#forwarding

>. ________________________________________________________________________________ Microsoft Teams meeting Join on your computer, mobile app or room device Click here to join the meeting<

https://teams.microsoft.com/l/meetup-join/19%3ameeting_YmYyZWE3YmUtODM3MC00NTA0LWJiNmYtNDcxZjM4NTMyY2Y5%40thread.v2/0?context=%7b%22Tid%22%3a%22bc7e3083-81d7-430c-8a91-cc32ff528ec3%22%2c%22Oid%22%3a%22617a85a9-e417-4072-a123-6c07b288e9a8%22%7d

> Meeting ID: 256 649 362 857 Passcode: sNAi6h Download Teams<

https://www.microsoft.com/en-us/microsoft-teams/download-app

> | Join on the web<

https://www.microsoft.com/microsoft-teams/join-a-meeting

> Learn More<

https://aka.ms/JoinTe

27

Sep 27

Calendar:

GLPS District Calendar

28
29

Sep 29

5:00 PM to 6:00 PM

Calendar:

GLPS District Calendar

6:00 PM to 7:00 PM

Boys Varsity Soccer vs. Catholic Central - HOME

Calendar:

GLPS District Calendar

30

Sep 30

9:00 AM to 4:00 PM

Calendar:

GLPS District Calendar